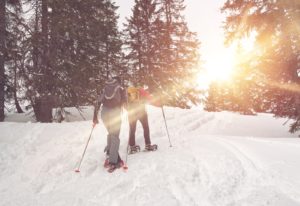 Downtown Brattleboro, known for it's interesting and unique artsy vibe, is an excellent place to spend some time during these cold winter months.  So many of us tend to stay indoors, out of the harsh elements of winter, but we urge you to do exactly the opposite.  It doesn't matter what the weather does in Brattleboro; there's always something fun and exciting going on here. Book your room at our wonderful Bed and Breakfast, and take part in the best winter activities Brattleboro has to offer.
Winter Activities to Try
There's so much to do in and around Brattleboro during the snowy months, and plenty of ways to renew your spirit and reconnect with nature during the dark, cold months of winter.  As an added bonus, residents on the East Coast don't even need a car to get here.  Amtrak's New England rail line, the Vermonter, goes from D.C. all the way to St. Albans VT, stopping right in the heart of downtown Brattleboro every evening. Also, Burrows Specialized Sports in downtown Brattleboro rents snow shoes and cross country skis, making it easy to get outside and have some fun.  All you have to do is get here!  Once you're ready to play, here are our favorite winter activities to enjoy in Brattleboro:
There are several great trails suitable for both Cross country skiing & Snowshoeing in Brattleboro.  In fact, you can snowshoe almost 15 miles of trails right from the backyard of our Inn.  The Retreat Grounds and Solar Hill are minutes away from downtown, both of which provide easy access to intermediate level trails. Other great places to look into are Brattleboro Sporting Club, Grafton Ponds, and Pisgah State Park. 
Sleigh Rides are a fun and romantic way to step back in time, and enjoy Brattleboro's scenic winter wonderland.  Friesians of Majesty, located in the picturesque mountains about 30 scenic minutes from Brattleboro, offers the best sleigh ride Southern Vermont has to offer.  You'll glide across 650-acres of pristinely beautiful forests and snow meadows.
The Harris Hill Ski Jump is the only 90 meter ski jump in New England, and one of only six in the USA of this size and caliber.
Have you ever been ice fishing?  The Retreat Meadows in our backyard actually happen to be a great destination for ice fishing.  Just make sure the ice is thick enough for this winter adventure.
There is incredible downhill skiing and snowboarding at Mount Snow, a short distance from downtown Brattleboro.  If you didn't bring a car with you (or one suitable for mountain driving), but you still want to hit the slopes, don't worry. The Moover takes free daily trips to Mount Snow from Brattleboro.
Once again, as soon as the ice on the Retreat Meadows in our backyard is thick enough, it is the perfect destination for some good old-fashioned Vermont Ice Skating.  If you'd rather be on a more traditional indoor ice rink, Brattleboro's Nelson Withington Skating Facility, located at "Living Memorial Park," is open to the public throughout the winter.
When you're done playing in the snow and ready for a little down time, our Inn will be here waiting. We are conveniently located near downtown Brattleboro, and all of the restaurants and breweries you'll need to relax and refuel for the next day.  Book your stay at our Brattleboro Bed and Breakfast, and experience these extraordinary winter activities for yourself!