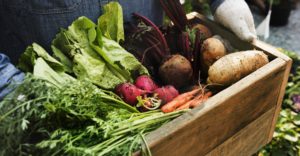 Located just across the border from Massachusetts is Brattleboro, Vermont, often considered the gateway to Southern Vermont. Brattleboro exemplifies the independent spirit of Vermont, with its emphasis on both buying and eating as locally as possible.  There's no better place to see this than the Brattleboro Farmers Market, which operates every Saturday from May through October, as well as Tuesday evenings with their Downtown Market.  In fact, it is Southern Vermont's premiere farmers market, featuring over 50 local vendors.  Whether you're a local or tourist, it's a great place to grab produce, or even stop in for some lunch and live music.  Book your room at our Brattleboro Bed and Breakfast this summer, and come celebrate the local farms with us at the Brattleboro Farmers Market.
Farmers Market and Local Farms
Farming dates back for multiple generations in Souther Vermont.  Today, there are many farms in the region keeping up this traditional New England way of life.  There's plenty to see and do at the Brattleboro Farmers Market itself, especially if you're short on time.  But if you'd really like to get out and see the countryside, and experience some of these farms for yourself, there are plenty of ways to do so.  In fact, the farm-to-table movement and Vermont's agricultural diversity is showcased in the Southern Vermont Food and Farm Trail. It certainly makes for a fascinating–and tasty–adventure when you're in the Brattleboro area.  If you're looking to get a local taste of Brattleboro, here are a few places that should be at the top of your itinerary:
One of the most popular places to find a little local flavor in Brattleboro is Grafton Village Cheese. These creamy, delicious cheeses are handmade according to age-old traditions, and their milk comes from small, local family farms.  Their retail store in Brattleboro isn't too far from our Inn, and it has a viewing window, where you can watch the cheese-making process firsthand, before sampling and taking home your favorite products.
If you want to tour a working family farm, head to Robb Family Farm.  Their Maple syrup tasting experience offers an exquisite taste of Vermont's most famous product.
The Adams Family Farm is another local farm worth touring.   Their farm store is open 7 days a week, and there are a variety of fun events happening at the barn throughout the year, too.
Wild Carrot Farm is a unique, horse-powered farm operating just outside of Brattleboro.  They also have a u-pick strawberry field that's open during June and July.
The historic farm at Scott Farm is worth visiting.  The farm is home to 23 historic structures and 40 beautiful acres of fruit orchards.  This is also the home of Naulakha, the former home of famed writer Rudyard Kipling.
Visiting these farms is a great way to experience the local culture of Southern Vermont.  Book your room at our Brattleboro Inn today.