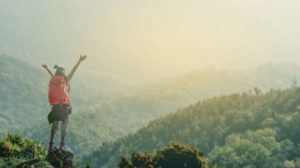 The Wantastiquet Mountain Trail offers Brattleboro visitors everything needed for a perfect day hike. This short round trip hike, just under 4 miles, packs a lot into it. Located within 520 acres of beautiful woods, the path features a waterfall, unobstructed panoramic views at the summit and opportunities to connect with several other trails. A day of hiking can be as long or short as you like and the exploration possibilities are endless. At the Inn on Putney Road, our private location surrounded by mature trees and gardens offer a serene, tranquil setting. However, guests will find the lively Brattleboro downtown just a short walk from our front door. Spend your days hiking the mountain trails or relaxing at our quiet retreat, then explore the fun Brattleboro bars and restaurants in the evening. Our unique French Provincial manor has 6 luxury guest rooms each with private baths and a classic, comfortable decor. While our wonderful gourmet breakfasts will have you ready for another day of exploring. Reserve your beautiful guest suite with us before the summer months slip away.
The Wantastiquet Mountain Trail
Just over the Connecticut River, minutes from Brattlboro,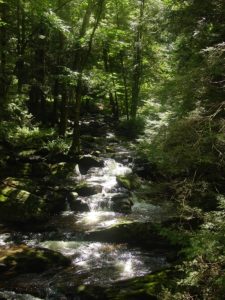 discover the Wantastiquet Mountain State Forest. Within the acres of forests climb the 1335 feet high mountain to truly stunning summit views. The trail begins on an old gravel quarry road, but near the trailhead it's worth taking the small side trip to view the waterfall. These pretty falls drop about 35 feet over two cliffs and end at a small forest brook. Continuing up the main trail the switchbacks lead hikers to the amazing summit on Miner's Ledge. The rocky overlook has a clear view of Mount Monadnock, the Connecticut River Valley, Brattleboro and the distant Stratton Mountains. After taking in the breathtaking view, descend to the brilliant blue Indian Pond. The flat, open shoreline is a great place to rest or cool off on hot summer days. Here hikers can pick up the Anne Stokes Trail in the Madame Sherri Forest. The short side trip to explore this forest and the fascinating castle ruins are well worth the time. In fact the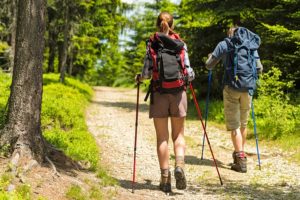 Wantastiquet Mountain area connects to many other conservation areas with hiking trails as well. This network of paths offer many opportunities for longer and more challenging day hikes.
After conquering our neighboring Wantastiquet Mountain, return to your relaxing room at the Inn on Putney Road. Soak tired hiking muscles in your very own jetted tub or enjoy the peaceful garden. Then end the perfect day with a cocktail and dinner at a superb Brattleboro restaurant. Book your summer escape to Brattleboro, Vermont today.