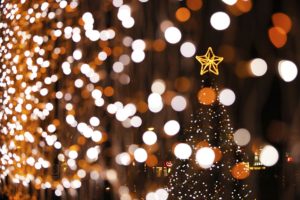 Though we're still busy enjoying what has been another beautiful fall in Brattleboro, it is time to start planning ahead for the upcoming holiday season in Brattleboro.  There's a lot going on at the Inn on Putney Road and the town of Brattleboro, and we'd like nothing more than for you to join us for a little holiday fun this season.  Whether you choose to join us for a little holiday shopping, or whether you're in town to see the dazzling light displays and other holiday events, you'll find nothing but joy and merriment in Brattleboro throughout the months of November and December. Come see what makes our town so special this winter.  Book a room at our Bed and Breakfast, and unwrap some new holiday memories and traditions with us this season.
Spend This Holiday Season in Brattleboro
The spirit of Christmas is evident in Brattleboro, marked by the simple, timeless decorations and a joyous spirit.  There is a lot going on in Brattleboro in November and December.  Here's a guide to 2017's most popular holiday events, so you can plan your getaway to Brattleboro accordingly:
The annual Putney Craft Tour will take place on November 24, 2017.  Once again, it is the perfect place to get a start on your holiday shopping.  The Putney Craft Tour is the oldest continuing studio tour in the country, and one of the top ten winter events in the state of Vermont.
Join the town of Brattleboro on November 24 for the annual Tree Lighting Ceremony in Pliny Park.  Santa will make a special appearance, and the community with sill and celebrate the start of another wonderful holiday season as the tree is lit for the season.
Holly Days, Holly Nights, November 30 – Dec 1.  This annual promotion put on by the Brattleboro Chamber of Commerce is the perfect chance to enjoy downtown Brattleboro, all dressed up for the holidays, and save some money on those unique holiday gifts at the same time.
Cotton Mill Open Studio Holiday Sale, another great chance for unique holiday shopping, will be on December 1 – 3, 2017.  Three floors of the mill will be covered with works from local artists, musicians, bakers, cooks, and craftspeople of the Cotton Mill and Brattleboro.
The 47th Annual community Messiah Sing will be on December 2, 2017.  It's a beautiful celebration of the spirit of Christmas, and a benefit for the homeless.  We can think of no better way to get into the holiday spirit than at this wonderful event.
This year's Jingle Bell Jog will be on December 9, 2017. Get dressed up in festive outfits for this great event, and get ready to burn off those indulgent holiday meals.
Enjoy a wonderful rendition of A Christmas Carol with the Vermont Theater Company, from December 8 – 16.
Our luxury Bed and Breakfast in the beautiful town of Brattleboro is the perfect place to stay, as you settle in to the upcoming holiday season. When you're not busy with these fun events, there are plenty of art galleries, cafes, pubs, restaurants, and theaters to enjoy in the charming town of Brattleboro.  Christmas in Vermont is a magical time of year, and we would love to share it with you. Book your getaway to our Vermont Bed and Breakfast today.