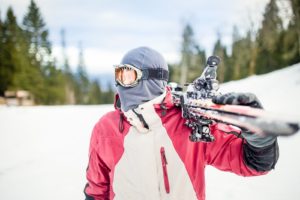 Winters are simply wonderful in Brattleboro, Vermont.  There's so much to do, and the snow makes our already beautiful town simply magical.  There's plenty of outdoor activities, like skiing, cross country skiing, snowshoeing, and ice skating to keep you busy and having fun.  But when you're ready to come indoors, warm up a little, and enjoy a change of pace, Brattleboro has that, too.  We've put together a winter guide to the area, to help you make the most of your getaway.  Book your room at our romantic Bed and Breakfast this winter, and discover all of the fantastic things there are to do here each winter.  
How to Enjoy Winter in Brattleboro
First, let's talk about how easy it is to get to Brattleboro during the winter!  We know not everyone is comfortable or enjoys driving in wintry weather.  With Amtrak's New England rail line, the Vermonter, you don't have to.  The train connects D.C. all the way to St. Albans VT, and stops in downtown Brattleboro daily. Once your here, all the gear you could possibly need can be rented in town from Burrows Specialized Sports.  So truly, all you have to do is get here, and we will take care of the rest.
If you want to head outdoors, and we recommend that you do, here are our favorite ways to spend the winter in Brattleboro:
Go Cross country skiing & Snowshoeing.  You can snowshoe almost 15 miles of trails right from the backyard of our Inn. How much easier can that be?  The Retreat Grounds and Solar Hill are minutes away from downtown, both of which provide easy access to intermediate level trails. Other great places to look into are Brattleboro Sporting Club, Grafton Ponds, and Pisgah State Park.
Take a Sleigh Ride with Friesians of Majesty, located in the picturesque mountains about 30 scenic minutes from Brattleboro.
The Harris Hill Ski Jump is the only 90 meter ski jump in New England, and one of only six in the USA of this size and caliber. Even if you don't feel brave enough to tackle this jump, it's fun to watch those who are! The annual Harris Hill Ski Jump Competition will take place February 17-18, 2018.
Try your luck at ice fishing on the Retreat Meadows, conveniently located just behind the Bed and Breakfast.  Check in with the innkeepers in advance, so you make sure the ice conditions are right.
Downhill Skiers and snowboards love Mount Snow, which is a short distance from downtown Brattleboro.  Luckily, the Moover takes daily trips to Mount Snow, and can be reached from Brattleboro. Magic Mountain and Stratton Mountain are also pretty popular skiing destinations.
Once again, as soon as the ice on the Retreat Meadows in our backyard is thick enough, it is the perfect destination for some good old-fashioned Vermont Ice Skating.  If you'd rather be on a more traditional indoor ice rink, Brattleboro's Nelson Withington Skating Facility, located at "Living Memorial Park," is open to the public throughout the winter.
When it's time to warm up, there are a number of wonderful bars and restaurants in Brattleboro, many within easy walking distance from the Inn on Putney Road.  Brattleboro really is the perfect winter destination.  Come see it for yourself!  Book a room at our Vermont Bed and Breakfast today.