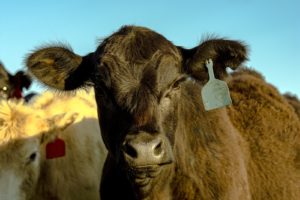 If you're been to Brattleboro before, or even if you've just started reading about this quaint little town on the Connecticut River, you probably know by now that is has a unique and funky personality all of its own.  The independent and off-beat character of Brattleboro is a source of pride amongst its residents, and is perhaps the reason that keeps this town one of Vermont's top tourist destinations. The unique personality of Brattleboro is on fully display this June, during the annual Strolling of the Heifers parade.  We love the off-beat arts vibe of Brattleboro, and think you will too.  Book your stay at our romantic Bed and Breakfast, just minutes from downtown Brattleboro.
Brattleboro's Strolling of the Heifers
There's nothing quite like lining the streets of downtown, in anticipation of the 16th annual Strolling of the Heifers Parade.  There's definitely no other event like it.  2017's parade will take place during the first weekend in June, running from the 2nd – 4th, and includes so much more than just the parade. There's an entire weekend of festivities dedicated to this annual event!  2017's theme for the Strolling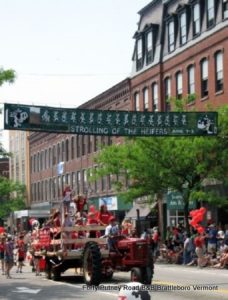 of the Heifers weekend is "Dance to the MOO-sic."
Friday, June 2nd, kick of the festivities with the annual Gallery Walk, Street Festival, and everyone's favorite event, the Great New England Fruit Pie Competition Finals.  As with everything in Vermont, you can expect the pie ingredients to be as fresh and local as possible.  The fun continues on Saturday, June 3rd, with the Parade itself, followed by the Slow Living Expo.  Though it may seem silly to some, the Strolling of the Heifers Parade is actually a tribute to Vermont's farmers, local food, and rural living.  The parade will move along Main Street, and up Putney Road to the Brattleboro Commons.  Along the route, you'll see a parade of friendly and well-groomed heifer calves, wearing colorful hats and/or flowers, and being led by future farmers from area schools and 4H clubs. The Slow Food Expo is a great chance to explore local Vermont foods, and to learn about regional farmers and craftspeople.  The festivities wind down on Sunday, June 4th, with the Farmers Breakfast, the Tour de Heifers Bike Tour, and area Farm Tours.
All said, the Strolling the Heifers Weekend one incredible weekend celebrating the hardworking, rural farmers of Southern Vermont, and the delicious products they produce.  You really don't want to miss this event; it's the best celebration of small-town locavore living in the country.  Book your room at our Brattleboro Bed and Breakfast today!