For many, seeing the breathtakingly colorful beauty of Vermont in the fall is a "must," at least once in their lifetime.  For others, visiting Vermont in the fall is a cozy annual tradition meant for romance and rejuvenation.  Either way, there is nothing more beautiful than New England's fall foliage. Couple Vermont's vibrantly colored hillsides with quaint, historic towns, charming farms, covered bridges, and beautiful natural scenery, and you have the recipe for an exceptional getaway.
If marveling at the colorful landscapes before you aren't enough of a reason to book a getaway to Vermont in the fall, perhaps the chance to stay at our small, luxurious Bed and Breakfast in Brattleboro will be. With amazing fall foliage hikes, scenic drives, and a charming town worthy of visiting, there's no better place to sink into the comfort of Vermont in the fall.
The tranquil location of our Inn feels like you're at a cozy, secluded retreat, but really you're just minutes away from everything you need in downtown Brattleboro.  Here, you'll wake up to beautiful views of our gardens and grounds, where you'll savor a delicious and hearty breakfast.  Between our hospitality and generous guest rooms, you'll want for nothing during your getaway.  See Vermont at its most magical this fall – book your room at our Vermont Bed and Breakfast today!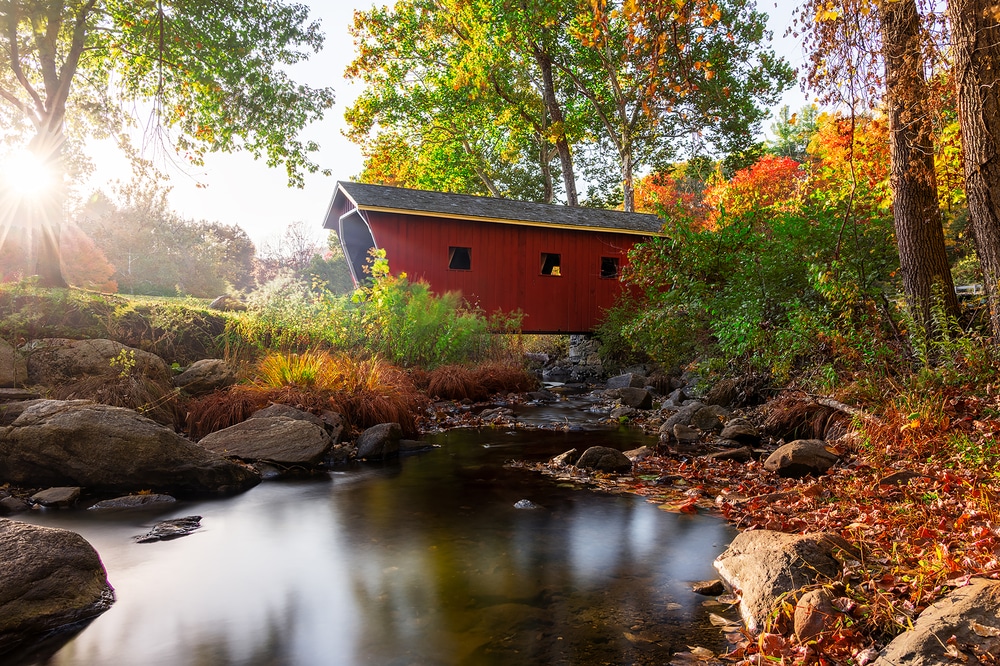 5 Ways to Enjoy the Best of Vermont in the Fall
There's really no shortage of wonderful things to do in Vermont in the fall.  Much of it, of course, revolves around exploring the outdoors and enjoying the colorful annual show Mother Nature puts on. However, enjoying Vermont in the fall is about more than taking great hikes or scenic drives. The atmosphere here is extraordinary, as we celebrate the changing of the seasons.
Even if you choose to relax in the comfort of our Vermont Bed and Breakfast, you'll have plentiful opportunities to enjoy the natural beauty just beyond our doors. When you're up for a little adventure, here are a few recommendations for our favorite ways to enjoy Vermont in the fall:
Take a walk through brightly colored trees!  Brattleboro has several casual walking trails, including the Retreat Trails that leave our Vermont Bed and Breakfast from the back yard. There, you'll enjoy views of a picturesque pond ringed by foliage, along with forested trails and a historic farm. There's even a 3.5 bird sanctuary to enjoy. 

If you want a bit more activity in your getaway, there are plenty of great fall hikes to take that offer breathtaking fall views.  This is a great way to see the colorful landscape of Vermont in the fall! Recommended hikes include the fire tower at

Molly Stark State Park

,

Mount Wantastiquet

, and

Mount Monadnock

. We'd be happy to recommend even more!

Biking through Vermont in the fall is also a striking way to explore the landscapes. Whether you want to enjoy a leisurely ride through downtown Brattleboro or meander windy country roads, we're happy to help you get on your way. If you don't want to bring your own bike, Brattleboro Bicycle Shop

has rentals available. If you'd rather be on tour, we recommend a ride with

Diverse Directions

.

They offer

multiple cycling tours

,

from easy to more challenging.

There's nothing more magical than taking a scenic drive through Vermont's windy country roads.  Some great choices include Route 9, the

Molly Stark Scenic Byway

, the

 

Brattleboro to Whitingham through Mount Snow loop

, and The Connecticut River National Byway.
Have you ever thought about taking a relaxing and romantic train ride through the fall foliage?. The Green Mountain Railroad, north of Brattleboro in the town of Chester, offers two wonderful fall foliage excursions

. The round trip Rockingham ride is a 1-hour tour along the Connecticut River with views of two covered bridges and the Brockway Mills Gorge, while the Ludlow trip is 2 hours and travels through the Green Mountains and over a high trestle bridge.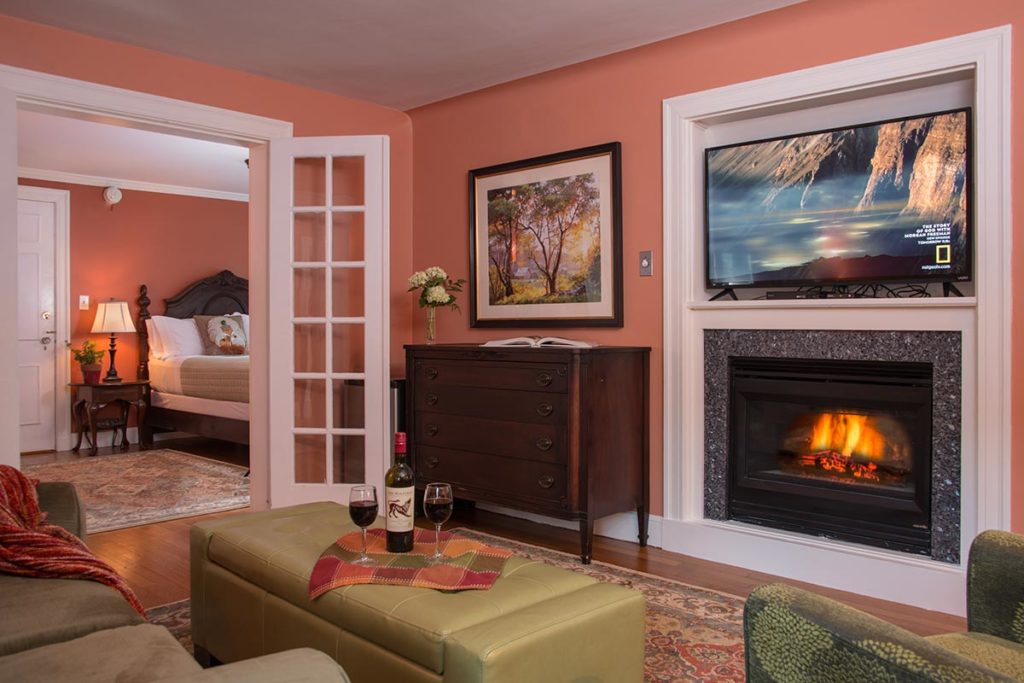 The Best Vermont Bed and Breakfast for Fall Getaways
When it comes to enjoying Vermont in the fall, you have a lot of options for things to do.  But when it comes to where to stay for cozy, romantic getaways, there's nothing that beats the luxurious comfort of our Vermont Bed and Breakfast.
The Inn on Putney Road, a historic French Baronial mansion near downtown Brattleboro, offers 6 guest rooms, award-winning gardens, and exceptional hospitality. As a part of your stay, we offer you a complimentary 2 or 3-course breakfast in the morning, concierge service throughout your time with us, access to miles of nature trails, and all of our common areas. We also have complimentary snacks and drinks available throughout the day.
We've thought of everything, so you can sit back, relax, and enjoy the unbeatable beauty of Vermont in the fall. Reserve your room at our Vermont Bed and Breakfast today!