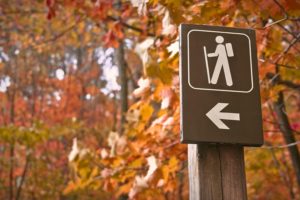 Every autumn Brattleboro prepares for a flood of visitors in search of great fall hiking. It's no wonder since the glowing foliage transforms the landscape and enhances the natural beauty of the area. Mountain summits, riversides and wooded hikes become magical treks through the vibrant seasonal colors. When looking for a fall hiking vacation, Vermont has everything for an ideal getaway. Not only do visitors have endless choices of great fall hiking trails, but also quaint towns with history, culture and wonderful restaurants. Brattleboro offers the very best expected in a charming New England town and even more. The historic downtown, overflows with artsy shops, cozy cafes and excellent restaurants. After exploring the great fall hiking, treat yourself to a romantic dinner and a movie at the elegant Latchis Theatre.
At the center of miles and miles of scenic hikes and walking distance to lively Brattleboro, find the Inn on Putney Road Bed and Breakfast. This French Provincial manor, nestled in explansive, mature gardens that have direct access to the Hogle Wildlife Sanctuary trail. This picturesque, one mile trail leads to a 3.5 acre bird sanctuary. This lovely walk ends at the Retreat Trails with 9 miles of forested trails with views of a historic farm. Our guests also enjoy our large, comfortable rooms with private baths and classic decor. Wake to wonderful garden views and a delicious, gourmet breakfast. Book your great fall hiking getaway at the luxurious Inn on Putney Road Bed and Breakfast. 
5 Vermont State Parks with Great Fall Hiking Trails
Brattleboro has access to multiple state parks, hiking trails, mountains and the impressive Connecticut River. Explore this amazing scenery at its most stunning during the peak fall foliage season. Spend the day on the great fall hiking trails found in these nearby state parks: 
Return to your private retreat at the Inn on Putney Road Bed and Breakfast after a day spent in the brilliant autumn foliage. The great fall hiking in Vermont refreshes the soul and restores serenity, but also can work up an appetite. Luckily Brattleboro has dozens of excellent cafes, pubs and restaurants to enjoy. Plan a romantic autumn vacation to Brattleboro with us today.