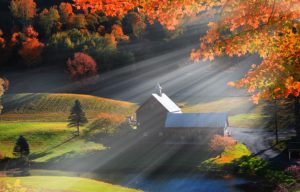 There's no equal to the brilliant and beautiful fall foliage colors of New England. The quaint, historic towns, charming farms, and cover bridges create the most idyllic fall scenery. Bed and Breakfasts all across Vermont fill up quickly during the peak autumn color months and Brattleboro is a very popular destination. Here visitors have access to amazing fall foliage hikes, drives and views, along with a fun, lively downtown. After a day of soaking up the stunning landscape, spend the night at a romantic Brattleboro restaurant or cafe. Stroll the unique, artistic shops or catch a movie at the classy Latchis Theater. While the Inn on Putney Road is a pleasant stroll to the city's center, the tranquil location feels like a secluded retreat. Wake up each day to lovely views of our mature garden with expansive grounds. Our generous guest suites and hearty breakfast create the perfect Bed and Breakfast experience. Reserve your fall foliage getaway with us today and see Vermont at its most magical.
5 Best Ways to Enjoy the Vermont Fall Foliage
A Vermont fall foliage vacation doesn't just mean gorgeous forest hikes or walks. There are many ways to enjoy this beautiful season around Brattleboro. Try these 5 wonderful ways to soak up the autumn colors:
The fall foliage season is a very popular time to visit charming Brattleboro, Vermont. Plan your autumn escape to this quintessential New England town. Reserve your luxurious guest suite at the Inn on Putney Road, for a romantic Bed and Breakfast vacation.