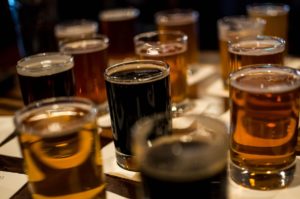 The Whetstone restaurant has the distinction of being a local and visitor favorite in charming Brattleboro Vermont. The amazing location, overlooking the gorgeous Connecticut River, makes it the preferred hangout for residences and those vacationing in Brattleboro. However it's also a destination and beloved for the dizzying choices of New England beer. With an on-site brewery of their own and a rooftop biergarten, they have created beer heaven on earth. Lastly the food exceeds pub food expectations, giving standard fare a gourmet twist. 
The co-owners of Whetstone, Tim and Amy Brady, were busy running Inn on Putney Road bed and breakfast when a rare opportunity popped up. The cherished Riverview Café became available for purchase. Joined by David Hiler the three decided to take the plunge and buy the restaurant. After a lot of hard work, remodeling and renovations, the new Whetstone restaurant opened. Its wonderful view, beer, food and reputation make it the place to go when vacationing in Brattleboro.
John & Cindy Becker, the current innkeepers at the Inn on Putney Road, invite you to stay at their elegant bed and breakfast when visiting Brattleboro. The tranquil setting is walkable to the city's lively downtown yet feels like a private retreat. The 6 generous guest suites offer all the comfort and luxury expected in an exceptional bed and breakfast experience. Relax in the lush, mature gardens, play a game of pool or sip a glass of wine in front of the living room fireplace. Each morning wake to a two or three course gourmet breakfast that will have your ready to explore Brattleboro and the surrounding New England countryside. Reserve your perfectly appointed guest room today.
3 Great Reasons to Visit the Whetstone Restaurant
Brattleboro has an active, fun town centered that's a rare gem and makes it a great place to get away for a weekend or week long vacation. Filled with unique shops, galleries, cafes, and an Art Deco movie theater. After a day of hiking or driving through the stunning countryside during the bright autumn colors, Brattleboro provides plenty of great entertainment, food and drinks. However the Whetstone restaurant is the place to go for the very best views, among other things:
Outstanding Beer – The Whetstone has been voted Vermont's Great American Beer Bar and with over 60 craft beers available it's no surprise. This place is a beer geek's dream and the selection and attention to detail will impress. Not only do they carry very hard to find New England brews but every type of beer is kept at the optimal temperature before it ever touches a glass. They also create their very own small batches on-site, and have a larger brewhouse on Frost Street in Brattleboro. The dining menu offers suggestions for beer pairings or just head up to the Rooftop Bier Garten to sample the draft beers. Wine lovers are covered with an excellent choice of reds and whites and the full bar also offers creative craft cocktails. 

Incredible Views – Simply put, nothing can beat the view here. The two large upper and lower decks are perched over the powerful Connecticut River. With a firepit and many towering heaters, the sweeping view can be enjoyed year round. Watching a dramatic sunset on the sparkling river with forest lined banks will make any night magical. The inside dining area also takes advantage of the great river views with generous windows and the central fireplace creates a warm, cozy atmosphere. 

Creative Menu – You'll find traditional pub fare with an innovative twist on their train-themed menu. Their "Side Track" menu has cleverly named "Selfies" and "sharezies", small plates like spicy wings and Vermont cheese flights. Soups, salads, and chili are found on the "Fast Track" menu, that includes their signature beer and cheese soup. The "Cafe Car" menu has sandwiches and wraps, including a pulled pork beer-B-que sandwich served with orange mango slaw. Yes please! There are great burgers and vegetarian options on the "Cattle Car" menu. While the "Main Track" menu has amazing steak, chicken and pasta entrees. Of course the "Caboose" menu offers a choice of cakes, pies and rich chocolate treats
Plan a wonderful autumn vacation to Brattleboro, Vermont. Hike the mountain trails through the glowing fall foliage, stroll charming downtown Brattleboro, and stay at a relaxing, elegant bed and breakfast. Book your romantic fall getaway to the Inn on Putney Road today.