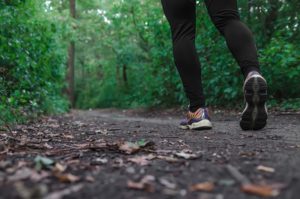 It's hard to believe that another summer is coming to a close in the beautiful city of Brattleboro, Vermont.  Schools around the country are gearing up for another exciting year, and cities around New England are anxiously awaiting the busy fall foliage season yet to come.  Now is a great time to take advantage of our incredible summer weather, and escape to the restful accommodations of the Inn on Putney Road.  A refreshing walk along Brattleboro's Retreat Trails, which can be reached from our very own backyard, is the perfect way to spend an afternoon.  To round out your perfect getaway, spend a few days browsing a wonderful array of coffee shops, independent bookstores, boutiques, delicious restaurants, and art galleries around Brattleboro.  The independent spirit of our community will captivate you.  Book your stay at the beautiful Inn on Putney Road, Brattleboro's top Bed and Breakfast.  
Exploring the Retreat Trails
The Inn on Putney Road rests on the shores of Brattleboro's beautiful Retreat Meadow.  The Meadow itself is an extraordinarily beautiful place to spend an afternoon, whether you prefer to watch wildlife or get out on the water for a gentle paddle.  It's a superb bird watching destination as well.  Frequent avian visitors include Blue Heron, a variety of shorebirds such as terns and sandpipers, and raptors, including Bald Eagles. The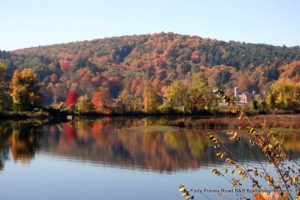 Retreat Meadow also happens to offer an extraordinary vantage point from which to watch the unfolding golden and red hues of fall.  During the winter months, this beautiful lake freezes over and becomes a popular place for ice skating.
When you're ready to stretch your legs a little, the adjoining Retreat Trails are the best option near downtown Brattleboro. The Retreat Trails were originally created in the 1800's as part of the Brattleboro Retreat property. They were revitalized in the early 2000's, and have since become a vital network of trails open for community use.  In total, the network of trails meanders for 9 miles around the Retreat Farm area. The trails are open year-round, and are perfect for walking, hiking, running, mountain biking, and even snowshoeing.  The Inn on Putney Road was once a part of the Brattleboro Retreat, and still connects directly to this beautiful network of trails.  The Hogle Wildlife Sanctuary Trail runs through our backyard.  Follow that trail around the Meadow, and you'll reach the remaining Retreat Trails. Beyond the beauty and wildlife you'll find along the trails, visitors can also hike to the top of the Harris Hill Ski Jump, which will offer a wonderful view of the surrounding area, as well as visit the historic Retreat Tower, Grafton Village Cheese, and the Retreat Farm itself.
To take advantage of these beautiful trails and enjoy the picturesque countryside of Brattleboro Vermont, book your room at the Inn on Putney Road today.