Brattleboro is truly a 4-season destination. During the warmer spring, summer, and fall months, Brattleboro offers plenty of biking, hiking, swimming, and other recreation.  During the winter, head outside for cross-country skiing, snowshoeing, ice skating, ice fishing, and sleigh rides.  In addition to the wonderful outdoor activities enjoyed in Southern Vermont, there is downtown Brattleboro, filled with incredible restaurants, shops, and a vibrant arts scene.  Book your room at our Vermont Bed and Breakfast, and come explore Downtown Brattleboro with us this winter.
Things To Do in Downtown Brattleboro
Downtown Brattleboro, named one of the 10 best small towns in America, is known for its unique, and sometimes funky arts vibe.  In the past, Brattleboro was something of a counterculture hotspot. Today, it retains these progressive cultural and political ties, while still managing to create a modern, hip, and trendy downtown.  Stepping into downtown Brattleboro is, in ways, a little bit like stepping back in time. It's a great place to enjoy some of the sophistication of a modern urban city, while still enjoying the slower, more laid back pace that you'll only find in Southern Vermont.  Vermont's arts scene is dedicated to showcasing local talent, as well as select national artists.  Galleries to visit include Mitchell Giddings Gallery, Gallery in the Woods, Vermont Artisans, and Brattleboro Museum & Art Center.  Our favorite time to browse the arts in historic Downtown Brattleboro is during the monthly First Friday Gallery Walk.  The next one will be on Friday, March 3.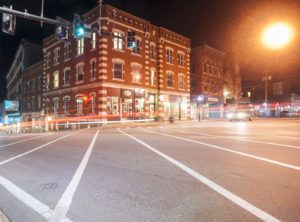 Interspersed between these galleries, you'll find an incredible range of shops worth exploring.  Your journey through Brattleboro will lead you to some interesting places, such as Lester Dunklee's Machine Shop, Sam's Outfitters, Burrows Specialized Sports, Back Room Audio, Brown & Roberts Hardware Store, Brattleboro Books, and so much more.  One thing becomes obvious as you move about Downtown Brattleboro:  We take shopping locally to a whole new level. Downtown Brattleboro also offers a host of theaters and performing arts centers, showcasing classical and jazz music, great local theater, and much more.  Our favorite venues include the historic Latchis Theater, the Vermont Jazz Center, and the Vermont Theater Company.
When you've exhausted yourself for the day, head back to the relaxing accommodations at our Vermont Bed and Breakfast.  One glimpse of this beautiful, quirky town in Southern Vermont, and we think you'll return time and time again.  Book your stay now at our Bed and Breakfast in Brattleboro.