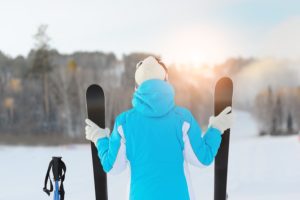 The ski season has begun in Vermont and the powdery slopes are ready to be explored. With miles of cross country trails and hundreds of downhill runs it's a skiing paradise. Time to plan your ski getaway to the beautiful mountains surrounding Brattleboro, Vermont. The Inn on Putney Road offers a quiet retreat walking distance to Brattleboro's charming downtown with great restaurants and lively pubs. After a day hitting the slopes return to your elegant room and warm up by the fire. Our hearty breakfasts will have you ready for another day of snowy adventures. Reserve your Vermont ski vacation with us today.
Brattleboro Cross Country Skiing Choices
The snow has transformed our hiking trails into serene cross country skiing routes. Now visitors glide through the tranquil forests, traveling miles of beautiful paths. For those that love the quiet challenge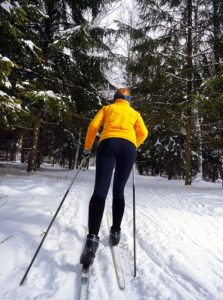 of long distance skiing there are many options.
The Brattleboro Outing Club offers 33 km of groomed trails for cross-country skiing and snowshoeing. Guests are welcome to use the trails up to three times a season and fees are paid on the honor system. The trails are open 24/7 all winter, depending on conditions. Also rentals are available when the visitor Hut is open.
A short drive away find more cross country skiing in the Green Mountains at the Timber Creek Cross Country Ski Center. Their trail system is kept perfectly groomed and provides a variety of difficulty levels. Additional services include ski rentals and lessons. Spend a magical day skiing through peaceful forests that open up to wonderful views of the Mount Snow valley. Grafton Trails also has an amazing network of cross country skiing trails.
Downhill Skiing Adventures near Brattleboro
For some skiing means flying downhill at top speeds. Perhaps it's the challenge of trying your first black diamond or traversing a glade trail through the forest. There are three ski resorts near our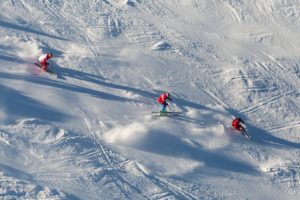 location that will satisfy any winter adventure wishlist.
The closest ski park is Mount Snow, only a 10 mile drive from Brattleboro. Their new state-of-the-art snowmaking upgrades keep the 85 trails ready throughout the ski season. While Magic Mountain takes pride in offering some of Vermont's most challenging slopes. Come here for interesting terrain, tree-skiing and exciting expert runs. Ski the highest peak in southern Vermont at Stratton Mountain. The 3,875 ft summit has a diverse mix of novice to expert trails. And all the resorts have lessons and rentals available on site.
If this is your first time on skis, Memorial Park in Brattleboro could be the place for you. It's a friendly, community run park designed for beginners that's fun and affordable. However those heading to Mount Snow, Magic Mountain or Stratton Mountain can also catch a ride on the MOOver. These trademark Holstein decorated buses have daily trips from downtown Brattleboro to the ski resorts and it's completely free. Book your ski getaway today at the Inn on Putney Road in charming Brattleboro, Vermont.