There is a lot to love in Vermont in the winter. From the many incredible things to do in Vermont in the blustery, snowy winter months to exploring the many charms of downtown Brattleboro or getting cozy and relaxing at our luxurious Bed and Breakfast, we can think of nowhere we'd rather be this year.
Downtown Brattleboro, known for its unique artsy vibe, is an excellent place to spend some time during these cold winter months.  So many of us tend to stay indoors, out of the harsh elements of winter, but we urge you to do precisely the opposite.  It doesn't matter what the weather does in Brattleboro; there are always fun things to do in Vermont in winter! There is something here for everyone.
Take the time you need to relax and unwind this winter. Book your room at our luxury Vermont Bed and Breakfast, where you'll enjoy the winter getaway of a lifetime.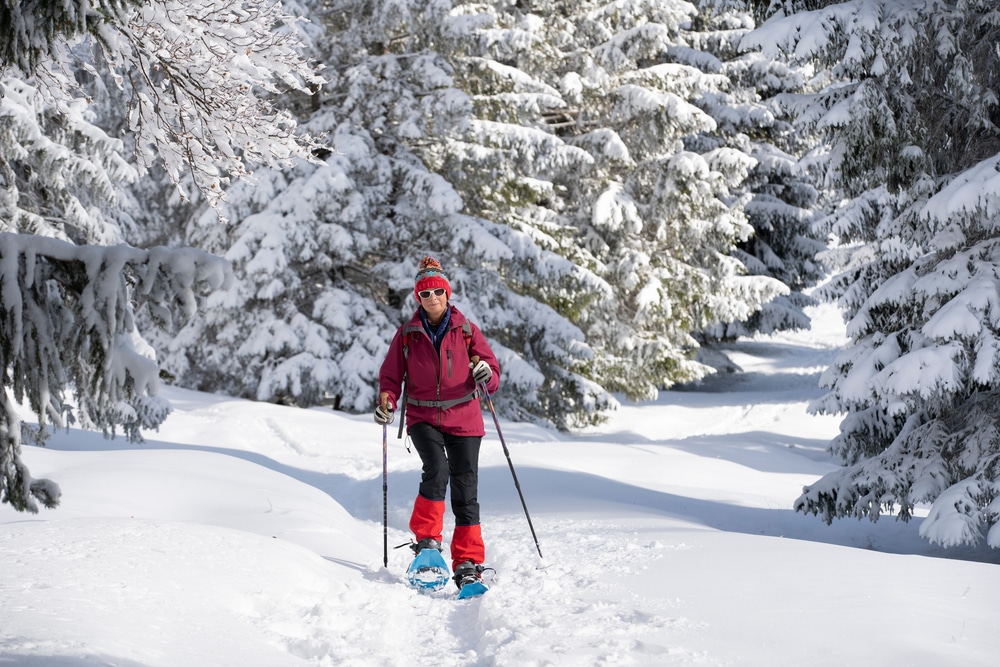 The Best Things to do in Vermont Near Brattleboro
When the snow starts to fly, your options for getting outside and enjoying various things to do in Vermont in winter increase!  That is, of course, if you want to be outside.  If not, you're welcome to come here and enjoy the relaxing oasis of our Bed and Breakfast.  With so many incredible things to do in Vermont in winter, we thought it'd be fun to put together a list of our favorites.
There are several excellent trails suitable for both Cross country skiing & Snowshoeing in Brattleboro, and this is one of our favorite things to do in Vermont in winter. You can snowshoe almost 15 miles of trails right from the back yard of our Inn.  The Retreat Grounds and Solar Hill are minutes away from downtown, both of which provide easy access to intermediate-level trails. Other great places to look into are Brattleboro Sporting Club, Grafton Ponds, and Pisgah State Park.
If you're looking for romantic things to do in Vermont this winter, you can't beat an old-fashioned sleigh ride. Talk about a great way to enjoy the winter wonderland that lies outside! Friesians of Majesty, located in the picturesque mountains about 30 scenic minutes from Brattleboro, offers the best sleigh ride Southern Vermont offers. You'll glide across 650-acres of pristinely beautiful forests and snow meadows.
The Harris Hill Ski Jump is the only 90-meter ski jump in New England and one of only six in the USA of this size and caliber. You don't have to be a ski jumper to visit this spot, though – you can watch! They host an extraordinary jumping event each February!
Have you ever been ice fishing?  The Retreat Meadows in our backyard happens to be an excellent destination for ice fishing.  Just make sure the ice is thick enough for this winter adventure.
There is incredible downhill skiing and snowboarding at Mount Snow, a short distance from downtown Brattleboro.  If you didn't bring a car with you (or one suitable for mountain driving), but you still want to hit the slopes, don't worry. The Moover takes free daily trips to Mount Snow from Brattleboro.
Once again, as soon as the ice on the Retreat Meadows in our backyard is thick enough, it is the perfect destination for some good old-fashioned Vermont Ice Skating.  If you'd rather be on a more traditional indoor ice rink, Brattleboro's Nelson Withington Skating Facility, located at "Living Memorial Park," is open to the public throughout the winter.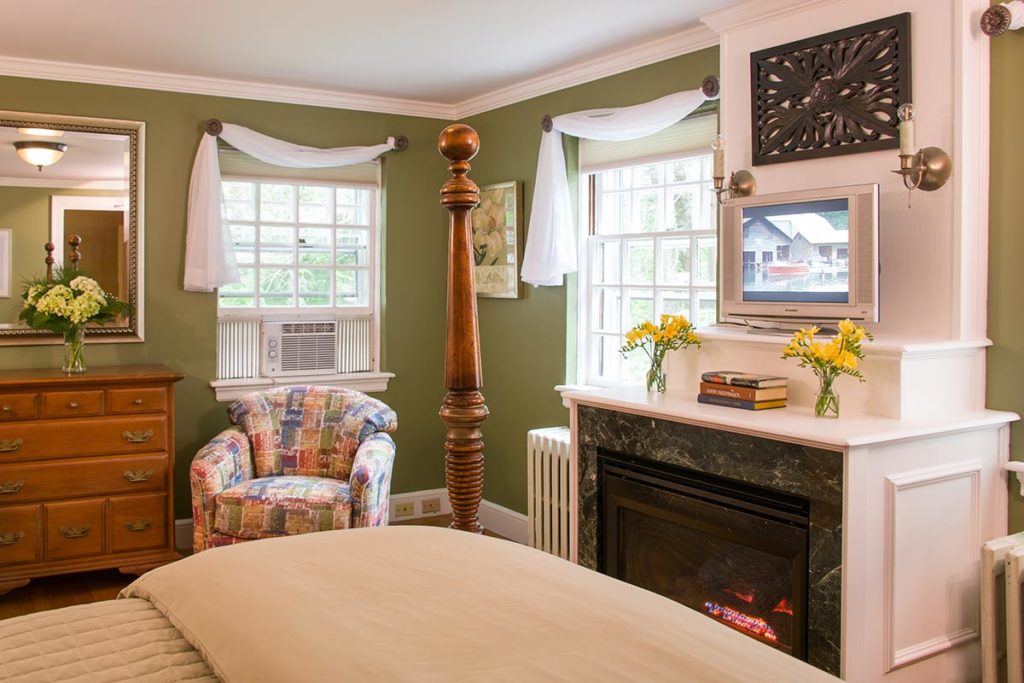 The Best Brattleboro VT Bed and Breakfast
Though there are plenty of things to do in Vermont this winter, the top reason to visit, of course, is the chance to stay at our luxurious Vermont Bed and Breakfast. There's nowhere better to slow down, unplug, and reconnect with those closest to you.
We offer your choice of four guest rooms in the main house, with an additional guest room with a private entrance in the carriage house. Each of our luxuriously appointed suites offers deluxe queen beds, exquisitely soft bedding, seating areas, private bathrooms, and so much more. Some even have their gas fireplaces, perfect for those cozy winter afternoons when you can't bring yourself to head outside.
Each morning of your stay, enjoy a delicious breakfast. Our menus change frequently and are always the delightful fuel you need to enjoy the day ahead.  If you're ready to enjoy the best hospitality Vermont has on offer, go ahead and book your room at our Brattleboro Bed and Breakfast today!