Southern Vermont is genuinely one of the best places to enjoy the magic of Vermont in the fall – and that is especially true when you stay at our #1-rated Vermont Bed and Breakfast. Summer and winter are also special seasons to enjoy in Vermont, and even mud season (spring) has something to offer those you just want to get away. But none of it compares to Vermont in the fall.
We've loved every second of our summer here in Brattleboro, but we're starting to feel the undeniable pull of the coming foliage season. Vermont fall foliage is a colorful feast for the senses, and it's the perfect time to get outside and explore, too. Aside from enjoying the best Vermont fall foliage, it's also the ideal time of year to experience the state's fascinating history, the quiet rural character, and the charm that positively oozes from towns like Brattleboro.
The best part about Vermont in the fall is that it doesn't really matter what you do while you're here – it just matters that you're here. Peak fall foliage usually occurs sometime in late September through mid-October, so you'll want to get your room at our #1-rated Vermont Bed and Breakfast booked before it's too late. Book your room with us today!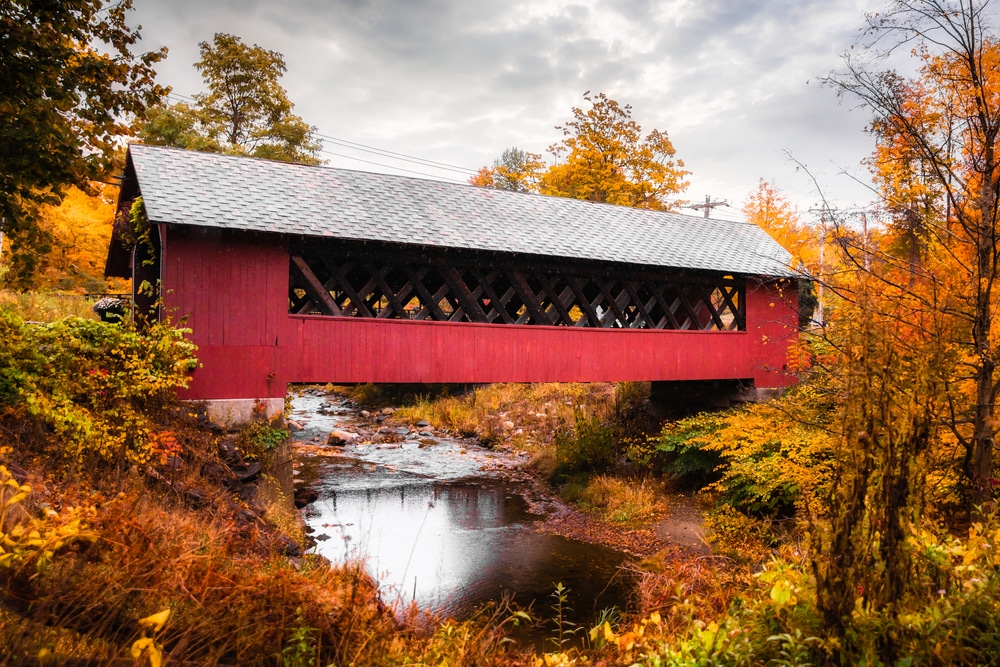 Enjoy the Best of Vermont in the Fall in Brattleboro
The rural, rolling hills and river valleys of southern Vermont are one of the most beautiful parts of the state. Whether you want a cozy place to relax and unwind, or you're looking for new ways to experience the best of Vermont in the fall, our Vermont Bed and Breakfast is the perfect place to land for a few days.
There are so many things to do in Vermont in the fall, including taking scenic drives and exhilarating hikes to enjoying more traditional fall activities like apple picking and cider sipping. There's no shortage of great things to do in Vermont in the fall, and we've included some of our favorites in the Brattleboro area below.
Taking scenic drives through Vermont in the fall is one of our favorite ways to enjoy the season in Brattleboro. We recommend

Route 9, the

Molly Stark Scenic Byway

, the

 

Brattleboro to Whitingham through Mount Snow loop

, and The Connecticut River National Byway.
Hiking is one of the best ways to enjoy Vermont in the fall, and there's no shortage of great Brattleboro hikes to take this fall. Consider hiking the famed Mount Monadnock in nearby New Hampshire, for example.
Like hiking, biking is a great way to see the scenery of Vermont in the fall. Brattleboro Bicycle Shop

has rentals available, and there are

multiple cycling tours

to take in the area. We're also happy to suggest some routes.
There are plenty of great Vermont ski resorts near Brattleboro – but winter isn't the only time to visit. You'll also find scenic chairlift rides and great Vermont fall foliage at many of them, including Stratton Mountain Resort and Mount Snow.
Tour the top Vermont Covered Bridges around the state, and enjoy these charming structures surrounded by the vibrant foliage of Vermont in the fall.
Chase waterfalls and enjoy the beauty of Vermont in the fall in an entirely different way. Popular choices nearby include Dummerston Falls, Jelly Mills Falls, and Beaver Brook Falls.
Enjoy a classic fall afternoon sipping apple cider, picking apples, and more at local orchards like Scott Farm and Green Mountain Orchards.
Taste your way down the Vermont Cheese Trail. It's the perfect complement to all of those fall adventures!
You don't need to take an exhausting hike to enjoy the best of Vermont in the fall – you can do it from right here in our back yard with the popular Retreat Trails.
Ride the beautiful Green Mountain Railroad through some beautiful Vermont fall foliage

.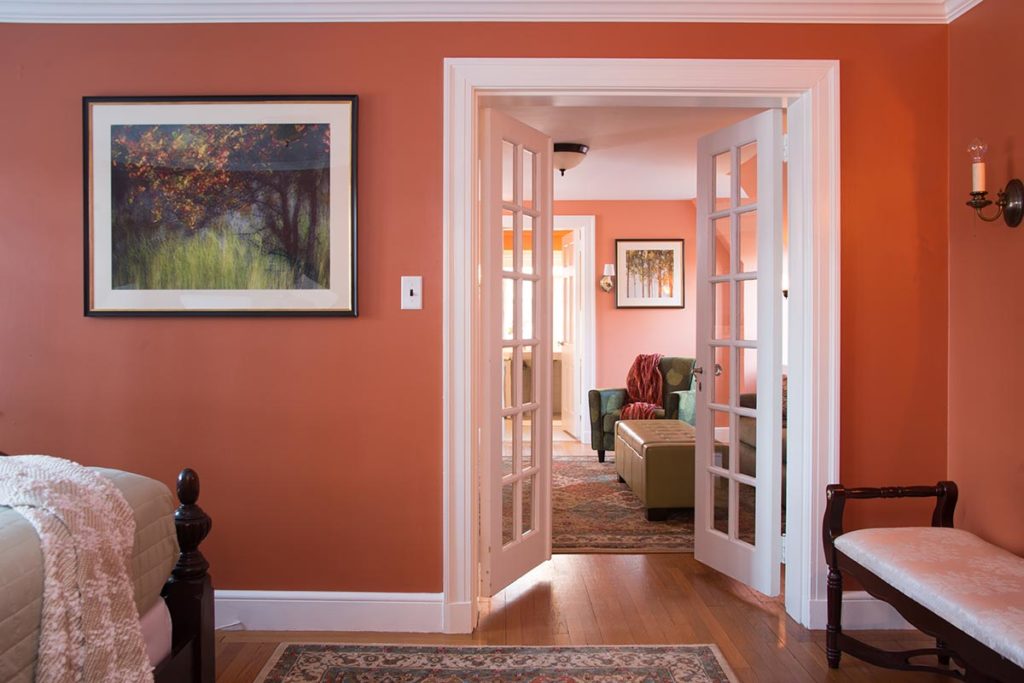 The Best Vermont Bed and Breakfast for Fall Getaways
When it comes to enjoying Vermont in the fall, you have many options for things to do. But when it comes to where to stay for cozy, romantic getaways, there's nothing that beats the luxurious comfort of our Vermont Bed and Breakfast.
The Inn on Putney Road, a historic French Baronial mansion near downtown Brattleboro, offers six guest rooms – two of which are in our private carriage house – award-winning gardens and exceptional hospitality. As a part of your stay, we offer you a complimentary multi-course breakfast in the morning, concierge service throughout your time with us, access to miles of nature trails, and so much more. There's truly no better place to enjoy Vermont in the fall.
We've thought of everything, so you can sit back, relax, and enjoy the unbeatable beauty of Vermont in the fall. Book your room today!