A little more than a hundred miles from Rochester, VT is a quaint and historic Bed and Breakfast in Brattleboro VT.  Downtown Brattleboro boasts a creative arts community surrounded by various outdoor adventures.  Nestled against the Connecticut River and a stone's throw from the gorgeous Wantastiquet Mountain Natural Area.  With the local scenery, the arts have blossomed, and it has become an area of interest for those who enjoy outdoor activities.
The Inn on Putney Road is a charming 6 room Bed and Breakfast in Brattleboro VT.  It was constructed in 1929 in the French Baronial style and is complemented by truly stunning and award-winning gardens. Our Bed and Breakfast in Brattleboro VT is also situated directly next to the West River, with access to miles of walking trails.  A short 5-minute walk takes you right to the heart of the downtown Brattleboro historic district, with all of the shopping, theaters, and fine restaurants it has to offer. Enjoy a slice of our private paradise this spring, and book your room at our Bed and Breakfast in Brattleboro VT. 

The Best Things to do in Brattleboro
One of the best things about our Bed and Breakfast in Brattleboro VT, apart from its luxurious appointments and beautiful property, is its proximity to downtown Brattleboro.  Just a short 5-minute walk away, you'll be in the heart of downtown Brattleboro's historic district, which is home to a variety of great shops, restaurants, arts venues, and more.
Dining in Brattleboro is diverse and unique. Bars and pubs, breweries, restaurants, and bakeries abound.  Care for an organic meal that is farm fresh? Superfresh! Organic Café is open for curbside pickup and special orders.  Kipling's Restaurant & Pub is a cozy spot with a family-friendly atmosphere which becomes a hot spot of fun on Friday and Saturday nights.  Looking for a more romantic restaurant on the water? Look no further than Whetstone Station Restaurant and Brewery.  Or maybe just enjoying the Bier Garden on the rooftop while enjoying craft beer and traditional food truck-style favorites is more your style?  Whatever it is you want, you'll find it near our Bed and Breakfast in Brattleboro VT.
Fine dining notwithstanding, the local atmosphere in downtown Brattleboro also boasts plenty to do. Shops downtown offers unique items that are hard to find anywhere else. From fine handmade jewelry, hemp items, to home and garden specialty items, it's truly a pleasure to shop at the independent stores throughout downtown Brattleboro. Vermont's artisans offer beautiful keepsake treasures such as Handknits' warm and beautiful yarns from local farmers. Care for more auditory-style entertainment? Visit Turn It Up to find the perfect music for your hike or drive.  Visit the Mitchell- Giddings Fine Arts gallery for that one-of-a-kind art piece to take home as a perfect reminder of your visit to Brattleboro.
With all the wonderful things to do around the area you'll need more than a few days to enjoy it all – and that is where our luxury Bed and Breakfast in Brattleboro VT comes in!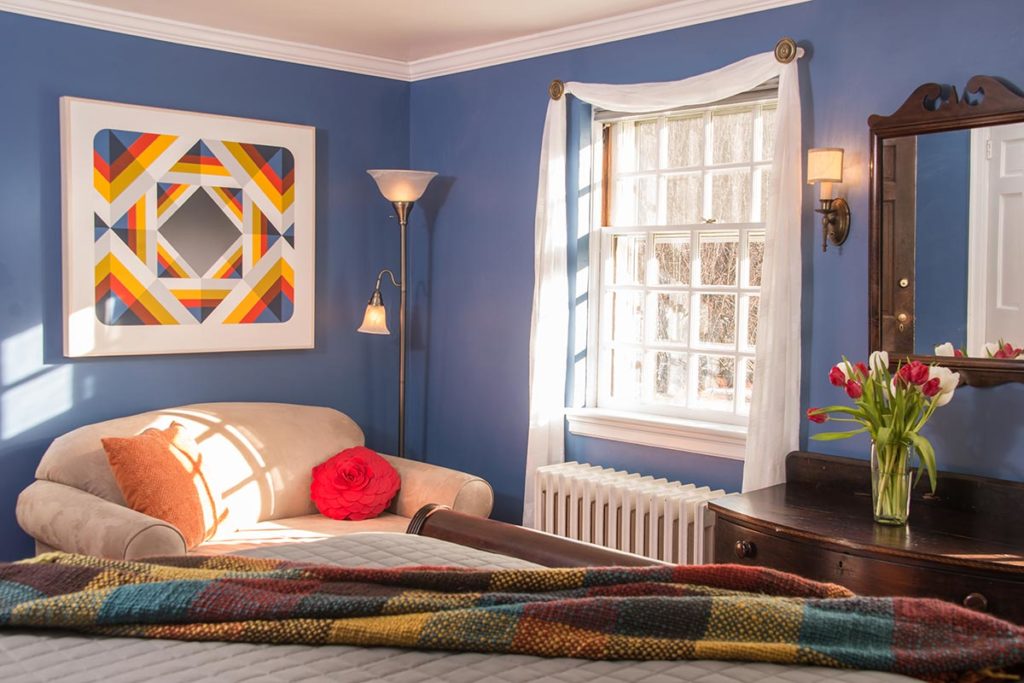 Stay at the Best Bed and Breakfast in Brattleboro VT
Constructed in the 1920s, this French Baronial estate boasts six guest rooms on the banks of the West River. Within walking distance of hiking trails and the bustling downtown Brattleboro historical district, this is the best Bed and Breakfast in Brattleboro VT. Each suite boasts its own private, full bathroom stocked with plush robes. The rooms themselves offer a deluxe queen bed with luxurious bedding, seating areas, as well as a refrigerator and coffee station. Four of the rooms are located in the main house and two in the separate Carriage House, each of which has its own private entrance.
Not only do we offer the finest guest rooms around, but we offer a wonderful range of amenities as well. Each morning breakfast is served in two or three courses, guaranteeing your morning begins with a gourmet start. Throughout the property, both indoors and out, you'll find many beautiful places to rest enjoy a bit of peace and quiet. The large guest living room's fireplace provides a cozy spot for reading and mingling with other guests as you feel comfortable, or you can enjoy sitting in our gardens or play a friendly game on our lawn outside.
Add some extra touches to your stay, and choose one of our packages to complement your adventures. There is something for everyone to enjoy, including romance packages and in-room massages. Isn't it time you claim your room at the best Bed and Breakfast in Brattleboro VT? Book your stay with us today!