Vermont is jaw-droppingly beautiful in the fall. It's a great place to get away, enjoy a quiet and restorative getaway, and breathe in the fresh mountain air surrounded by the season's beauty. There are so many things to do in Vermont in the fall, including here in the southern Vermont area around Brattleboro. One of our favorite things to do in the fall in Vermont is to tour Vermont covered bridges. There are more than 100 beautifully preserved Vermont covered bridges throughout the state, offering a quaint glimpse into a time gone by.
You can enjoy the charms of these Vermont covered bridges while taking scenic drives throughout the state, of course. Everywhere you turn, you'll encounter brightly painted hillsides, charming farms and rural communities, and vibrant natural scenery set ablaze in the natural hues of autumn. Of course, scenic drives and covered bridges are just one aspect of a fantastic fall getaway in Vermont. There's also great hiking, biking, markets, farms, cultural attractions, and more.
Even with so many fantastic ways to enjoy fall in Vermont, there's nothing that beats a little downtime at our Brattleboro, VT Bed and Breakfast. We're located close enough to downtown Brattleboro for you to enjoy the best restaurants and attractions, yet far enough away and backed up against the Retreat Meadows to feel as though you have a quiet sanctuary all to yourself. Wake up to beautiful autumnal views of our garden and grounds and the aromas of a homemade breakfast, and relish the comfort of our hospitality.
There's truly nothing better than staying with us at our Brattleboro, VT Bed and Breakfast. Book your fall getaway today!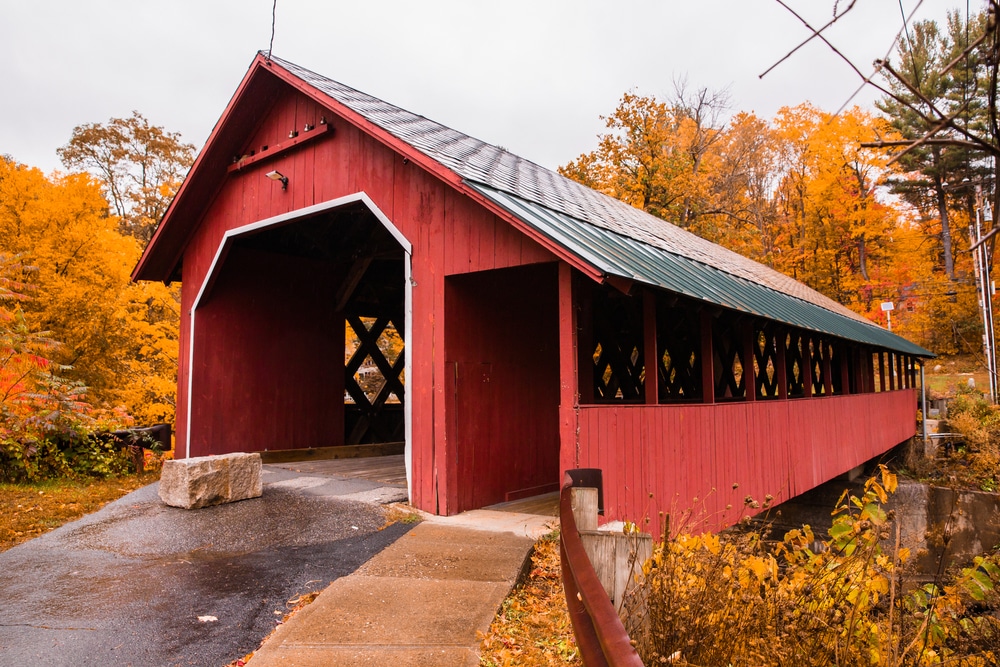 The Best Vermont Covered Bridges
It's said that Vermont has more covered bridges per square mile than any other state – and at no time are they more beautiful than in the fall when surrounded by fiery shades of orange, yellow, and red. These covered bridges are, perhaps, one of the most charming remnants of Vermont's rural past. 
With more than 100 Vermont covered bridges scattered throughout the state, the odds are pretty good you'll run into one as you enjoy a leisurely fall drive from one destination to the next. But a tour of Vermont covered bridges is about so much more than the chance to see one of these narrow, wooden bridges spanning a river. It's also an excellent opportunity to take scenic drives around the state, witnessing some of the best fall foliage in Vermont. 
You can find a complete map of Vermont covered bridges here, but below, we've included five of our favorites, all within a reasonable drive through beautiful scenery from our Brattleboro, VT Bed and Breakfast. 
As you travel to these Vermont Covered bridges, enjoy the scenic backroads in fall, and soak in the quiet beauty of this part of the state.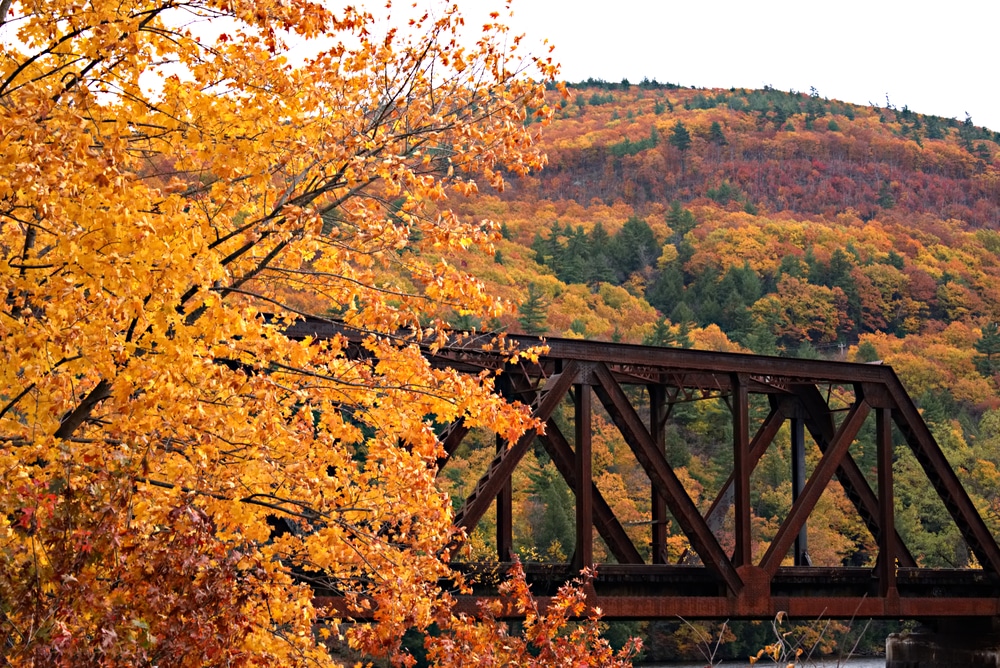 More Things to Do in Vermont in the Fall
Whether you see these Vermont covered bridges in a single day trip, or you spread out the adventure and take a deeper dive into the communities of southern Vermont, we have no doubt you'll love everything about visiting Vermont in the fall. In between your bridge-laden adventures, there are plenty more things to do in Vermont in the fall. 
From scenic drives and exhilarating hikes to enjoying traditional fall activities like apple picking and cider sipping, we'd love to share the best of our area with you this fall. We've included some of our favorite activities below! 
Whether visiting Vermont covered bridges or not, there are plenty of great scenic drives around southern and central Vermont. Our favorites include

Route 9, the

Molly Stark Scenic Byway

, the

 

Brattleboro to Whitingham through Mount Snow loop

, and The Connecticut River National Byway.
There's nothing better than getting outside for a hike. Though you can enjoy a scenic hike on the Retreat Trails, right from our back yard, there are also plenty more Brattleboro hikes to take this fall. New Hampshire's Mount Monadnock isn't even too far away if you're looking for a big adventure and unforgettable fall views. 
Rent a bike from our local Brattleboro Bicycle Shop

and enjoy scenic rides around southern Vermont. There are

multiple cycling tours

to take in the area!
Now that fall is here, it feels as though ski season is just around the corner. But before the white flurries begin to fall, take a scenic chairlift ride at Stratton Mountain Resort or Mount Snow, and experience these unforgettable fall foliage views from high above ground. 
Head to local orchards like Scott Farm and Green Mountain Orchards, where you can enjoy a classic fall afternoon sipping apple cider, picking apples, and more.
Ride the beautiful Green Mountain Railroad through some beautiful Vermont fall foliage

.
When you've had your fill of adventure for the day, head back to the quiet, upscale guest rooms at our Brattleboro, VT Bed and Breakfast. While here, spend plenty of restorative time admiring the foliage in our beautiful gardens and grounds, too! Book your fall getaway today!