There are plenty of options when it comes to finding an excellent Vermont Bed and Breakfast for your getaway. With charming small towns and beautiful rural scenery to enjoy, it's easy to see why Vermont is a quintessential destination for B&B getaways. However, if you want to stay at the best Vermont Bed and Breakfast, you need to head to southeastern Vermont to the hip and trendy town of Brattleboro. You'll find the Inn on Putney Road, one of the top-rated Vermont Bed and Breakfasts.
Our Vermont Bed and Breakfast is located within walking distance to downtown Brattleboro, which as a community boasts a vibrant creative arts community. Not only that, but Brattleboro is a great place to launch a variety of outdoor adventures. It's situated on the Connecticut River and not far from various gorgeous State Parks and natural areas. We even have an extensive network of walking trails that leaves directly from our back yard.
Moreover, our Vermont Bed and Breakfast offers a luxurious alternative to impersonal hotels. With just six guest rooms in our historic home and award-winning gardens on the grounds, you can expect a welcoming and upscale retreat for your time in Brattleboro. It's the perfect place to relax, unwind, and scale the hustle and bustle of modern-day life. IF this sounds appealing, it's time to book your room at our Vermont Bed and Breakfast!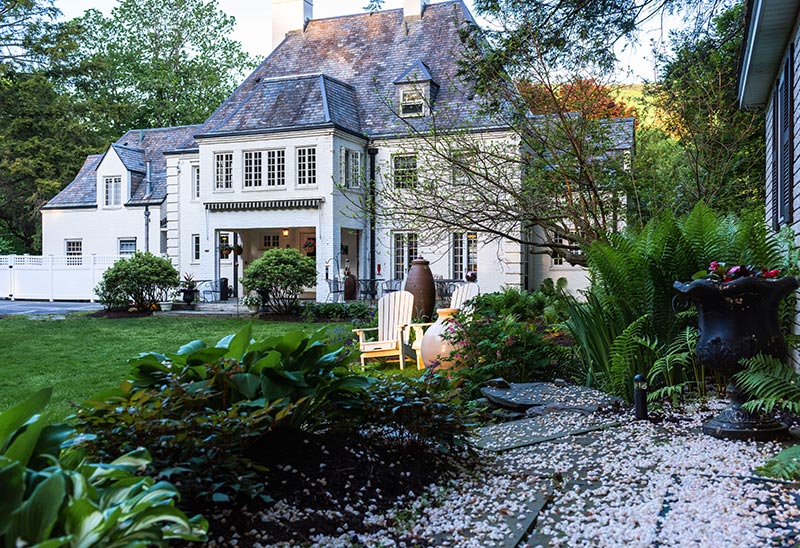 The Best Vermont Bed and Breakfast For Getaways
The Inn on Putney Road is a historic Vermont Bed and Breakfast situated on the banks of the West River. Its construction is French Baronial in style and dates back to the 1920s. Our Vermont Bed and Breakfast offers six guest rooms, four of which are in the main house, with an additional two in our carriage house. We're well located for you to enjoy the best of downtown Brattleboro, too.
The guest rooms at our Vermont Bed and Breakfast are outfitted with all the high-end amenities you crave for your stay, including high-end toiletries, plush robes, in-room refrigerators with complimentary beverages, and so much more. We also offer a delicious breakfast served fresh each morning of your stay. When you want to stretch your legs, enjoy our beautiful gardens and lawn outside or take a walk on the Retreat Trails, which leave from our back yard.
Whether you prefer to spend your days browsing the independently-run shops in downtown Brattleboro or out on the trails breathing in the fresh southern Vermont air, you'll find everything you need and more at our Vermont Bed and Breakfast. There is no better place to stay in Vermont – but you don't have to take our word for it. Our reviews speak volumes about the guest experience waiting for you at our Vermont Bed and Breakfast!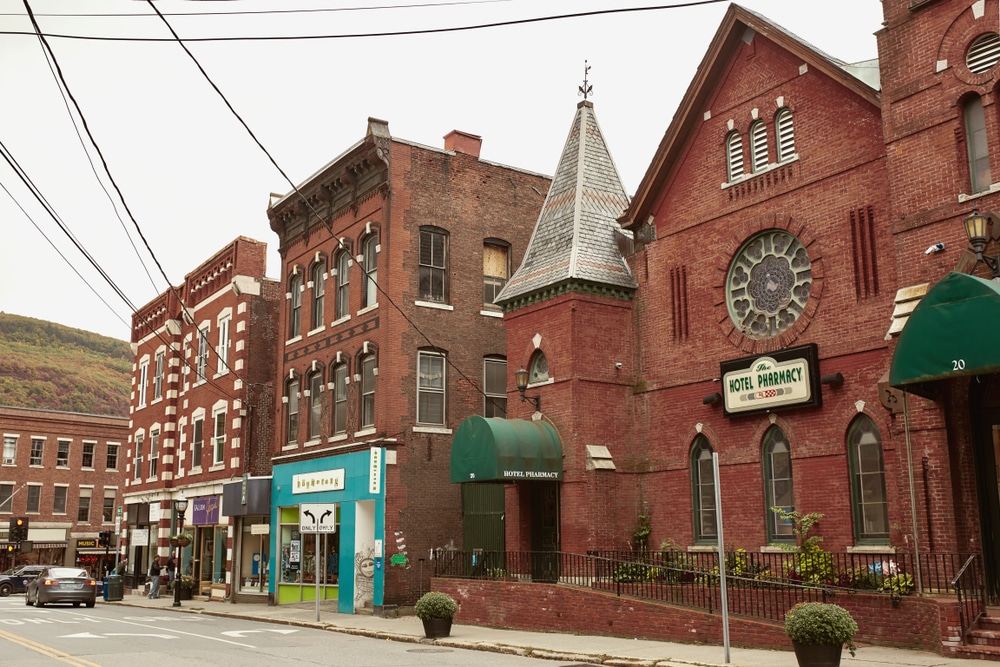 Great Things to do in Brattleboro
One of the best things about our Vermont Bed and Breakfast is our proximity to downtown Brattleboro. The historic streets of downtown Brattleboro are just a short 5-minute walk away, where you'll find a variety of great shops, restaurants, arts venues, and more. There are so many fun things to do in Brattleboro, which makes it such a fantastic getaway destination.
Everyone needs a bite to eat while they're staying here, and luckily Brattleboro is home to plenty of great restaurants, most of which aren't too far from our Vermont Bed and Breakfast. In fact, dining in Brattleboro is diverse and unique, filled with plenty of bars and pubs, breweries, restaurants, bakeries, and other tasty eateries. You can find a rundown of our favorite local Brattleboro VT restaurants here.
Once you're properly fueled and nourished, you'll find that the atmosphere in downtown Brattleboro is hard to beat. There are many great things to do in Brattleboro, from shopping and browsing local art to getting out of town for a hike or bike ride. True to Brattleboro's local-first culture, the shops here offer a range of unique items hard to find anywhere else. From fine handmade jewelry and hemp items to home and garden specialty items, it's genuinely a pleasure to shop at the independent stores throughout downtown Brattleboro. For even more great ideas on how to enjoy your getaway to Brattleboro, see our list of our favorite things to do in Brattleboro.
With all the wonderful things to do in Brattleboro, you'll need more than a few days to enjoy it all – and that is where our luxury Vermont Bed and Breakfast comes into play. Book your room today!